How would you like access to over 600 guitar songs you can start learning how to play right now?
In fact, by the time you're reading this it could be closer to 700 songs as new lessons are added weekly.
You can actually review a bunch of them with a Guitar Tricks free trial. Click here to start testing out these song lessons.
Find Over 600 Guitar Song Lessons from Guitar Tricks
When I first began learning the guitar, I started right here, on the Internet.
I signed up for a free trial with Guitar Tricks, I liked it a lot, and began working on their beginner lessons. I moved from fundamentals 1, to fundamentals 2, and soon I found myself scrolling through hundreds of online video lessons on specific songs. I was in heaven.
The guitar lessons are sorted into tabs and categories. There is an info tab, followed by the title, artist, style, published date, and instructor. Simply click begin and the video lesson loads up instantly.
Because there are so many song lessons, you'll want to sort them in some way. You can view them based on their popularity, title, style, difficulty, artist, published date, and instructor.
Are you starting to see how someone who wants to learn specific guitar songs might be in heaven? I sure was.
You can actually hit the View All Artist button and you're given a full alphabetical list of all the artists and the songs which are available.
What Kind of Quality Do You Get?
The reason I recommend people start with a free trial of Guitar Tricks is to check out the video lessons, and see if you find them useful. If you like them, you can continue on with a membership.
For those who are serious about learning, and who want a full list of over 600 songs organized and presented in a super high quality fashion, then a membership is totally worth it. Trust me it's not expensive. It's WAY cheaper than real in person lessons, and you will avoid wasting time surfing random YouTube video lessons.
Here are some screenshots of the video lessons: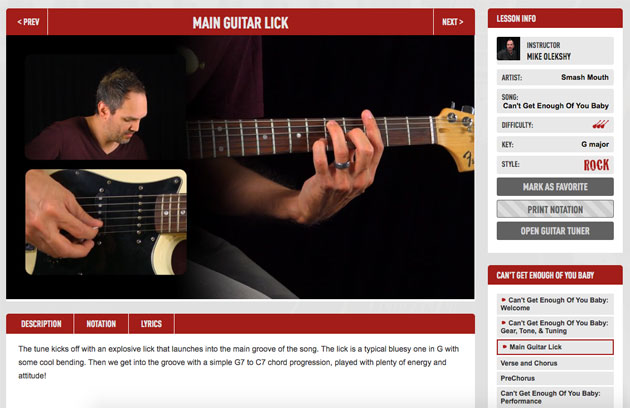 As you load up a video lesson, you have the video player on the left, and the navigation on the right.
You can play, pause and loop the video. When the instructor is speaking, you will usually get a front camera angle, however when the instructor is explaining something specific on the guitar, you can watch with 3 camera angles.
Below the video is a description, as well as the sheet music notation, and the lyrics of the song.
On the right (pictures below), you will get all the lesson info, as well as a content menu so you can watch different videos of the lesson, and a progress bar indicating how far along you are.
Try For Free!
If you want access to the biggest list of online guitar song lessons, then consider starting a free trial with Guitar Tricks today.
Here is a link to get started for free: