Disclosure: We are a professional review site that receives compensation from the companies whose products we review.
As you probably already know, Guitar Tricks and JamPlay are the two biggest guitar learning websites in the world.
There are many other programs, courses, and even apps like Yousician, however they just don't compare.
If you've narrowed down your choices to these two, then you're on the right track.
I'm hoping this Guitar Tricks vs. JamPlay comparison will help you make the final choice.
Watch The Video Comparison
GuitarTricks
Price: $19.95 / Month
Refund: 60 Days
JamPlay
Price: $19.95 / Month
Refund: 30 Days
Comparison Chart for Review
Things to Consider
Guitar Tricks
JamPlay
Skill Level
Beginners to Advanced
Beginners to Advanced
For Beginners
Step by step plan for beginners which is the best resource available.
Beginner courses are taught by various teachers, so it's not as well laid out.
For Advanced
Has the most content so all players will find enough to keep them busy.
Offers more genre specific lessons, and more live lessons at the moment.
Lessons
Offers the most content in terms of overall lessons. They have over 600 song lessons and constantly update them.
Has around 300 song lessons, so not the best option if you want to learn specific songs, however they offer more styles and genres of guitar lessons.
Video Format and Tools
HD video lessons with a great user interface. They offer chord finder tools, backing tracks, a metronome and reference tuner.
Also has HD video lessons which offer a few more camera angles. They offer the same tools as Guitar Tricks.
Forum
Active forum and they're introducing more live lessons.
Active forum with a lot of live lesson material which is available weekly.
Price
Monthly: $19.95 ($0.67/day)

One Year Membership: $143.20
Monthly: $19.95 ($0.67/day)

Quarterly: $49.95 (save $39.60)

One Year Membership: $159.95
Refund Policy
60 day money back guarantee.
30 day money back guarantee.
Best For
Best option for beginners.
Best option for intermediate players.
Free Trial
14 day free trial available now.

Get your free trial here.
7 day free trial at the moment.

Get your free trial here.
What These Offer For Beginners
If you're a beginner, then getting the proper instruction is key.
I'm not going to go into the benefits of online lessons vs. in-person lessons, but if you want you can check out some material on that here.
Both Guitar Tricks and JamPlay have dedicated sections for beginners.
Guitar Tricks has a step by step class for beginners where each lesson builds on the previous one. There is a TON of information for beginners.
Here are the chapter headlines for their guitar fundamental courses 1 and 2:
1 - Get to know your guitar
2 - Let's learn to play
3 - How to play simple melodies
4 - Your 5 chord power pack
5 - Must-Know basic open chords
6 - How chords work together to make songs
7 - Intro to timing and rhythm
1 - All about power chords
2 - Intro to the major scale
3 - A-String power chords and the amazing magic L
4 - What is a chord, really?
5 - Getting started with barre chords
6 - Intro to the minor scale
7 - Intro to reading music
The video lessons are short and stay to the point, which is great if you need to re-watch some of them.
If you like step by step lessons, I highly recommend you try their 14 day free trial:
JamPlays' beginner lessons are categorized by teachers and guitar types. 
So each instructor has a set of lessons for beginners.
This allows you to choose from not one course, but many (close to 20).
They vary in length depending on what material the teacher created. If you like the sound of this, then check out the full in depth review here.
---
I personally feel Guitar Tricks' section for beginners is a little easier to follow.
I like that it's one course, which is extremely well thought out, and I can run through it step by step.
This is more appealing than looking through the various instructor courses from JamPlay, and deciding on which one to choose. Some are thorough, some aren't, so for me it's just not as clearly laid out.
If you're a beginner, I would recommend starting with Guitar Tricks.

Here is a Behind the Scenes look at the
Free Trial from Guitar Tricks
Beyond Beginner Lessons
These programs are NOT only designed for beginners.
They have great beginner sections, but the real meat of the lessons are everything that comes after.
The main distinction between the set up of GuitarTricks and JamPlay, is that Guitar Tricks continues on a straight path, while JamPlay gives you a bunch of options to choose from.
Neither is necessarily better than the other, however I personally tend to like the structure with Guitar Tricks.
As you can see from the image above, with Guitar Tricks you're lead through a Blues, Country or Rock course where you progress through that type of guitar style.
So you can definitely follow one of these courses, in a straight line, step by step path, and really master it.
JamPlay presents a lot of different choices, as they did with their beginner courses.
They offer up more choices when it comes to genres of guitar than Guitar Tricks, and when you chose a genre, you then choose an instructor who teaches their own material.
For more advanced players, JamPlay offers some lessons from guitarists who teach their own style of guitar as well.
If you're an intermediate player, it's worth starting a 7 day free trial with JamPlay:
For intermediate players, you will get slightly more choices with JamPlay, however the linear learning structure is still present in Guitar Tricks, which many people find very beneficial.
For advanced players who want a larger list of genres of guitar, they may feel JamPlay is the better option. Learn more about JamPlay here.
How the Lessons are Presented
The lessons are presented with video.
This is really what separates these programs from many of the other learning tools available. If you want HD video lessons, these are the websites which offer the best material.
Both of these will offer video lessons in a dashboard style with a few different features.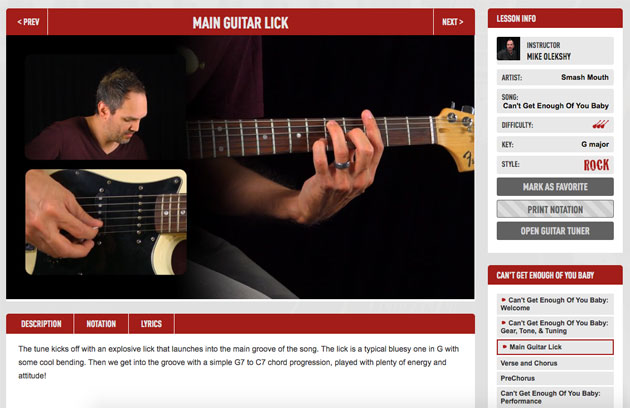 It's hard to really choose a winner here.
The videos with Guitar Tricks are a bit more basic, but also very simple which is good. JamPlay offers more camera angles but it's not always beneficial.
At the end of the day the camera views and video quality are great with both options. They both do a great job at zooming in and out at proper spots within a given lesson.
This is when I would really recommend you jump in and start a free trial to see which platform you like better.
There are so many mixed opinions here, and it really boils down to personal preference.
Song Library
Guitar Tricks has more lessons from popular songs.
They offer more songs, however JamPlay does still offer plenty to go through.
If you're interested in learning how to play your favourite songs, both programs will definitely meet your needs.
Pricing and Trials
When all the smoke settles, you really can't go wrong with either of these programs.
I think Guitar Tricks has a slight edge, and they currently offer a great free trial, so you really have absolutely nothing to lose. I would recommend you try them first:
Get started with a free trial from Guitar Tricks. Click here.
If you're a bit more advanced then you might find JamPlay a bit more useful. For you, I would recommend starting off with JamPlay's free trial here.
Remember, you can actually test them both out for free.