The answer that you don't want to hear: It depends.
The price of guitar lessons will depend on a few things:
Experience of your teacher
The city you live in
Buying more lessons upfront
Your skill level
So it depends on these things.
But there certainly is an average.
The average cost of guitar lessons is $40 per hour.
How Much Would These Lessons Cost a Year?
If you do weekly lessons for an entire year, the cost is quite high.
Say you do a 30 minute session every Thursday night.
That would cost you $1040 per year.
You would get 26 hours of 1 on 1 instruction.
As you can see, in-person guitar lessons can be expensive for some new players.
Other Things to Consider
Can you find a good guitar teacher in your area?
Most people don't have access to professional guitar teachers in their local area.
If you do find one, hopefully your commute is not too long.
Is 30 minutes per week enough?
There's no doubt that you will get better from guitar lessons, but some people find 30 minutes to not really be enough. Sure you can go to more lessons, but it can get expensive.
What if you don't like your teacher?
It's not like you have 50 guitar teachers to choose from in your area. Your choices are limited, and some teachers aren't any good.
Have You Considered Online Lessons Instead?
I know I'm sort of bashing the whole in-person guitar lesson industry.
There are definitely some great teachers out there, and many students have had success. If you can afford $40 per hour, and you live in a big city, you could be OK.
But what about some other options?
What about these online guitar lessons?
Online guitar lessons give you the most value for money.
The cost of about 4 in-person lessons (1 hour), will get you an entire year membership to online guitar lessons. 4 lessons vs. 365 days of access.
What do you get with online guitar lessons?
Basically online guitar lessons are offered through membership websites.
You created an account and you have access to thousands of video lessons, and hundreds of song lessons.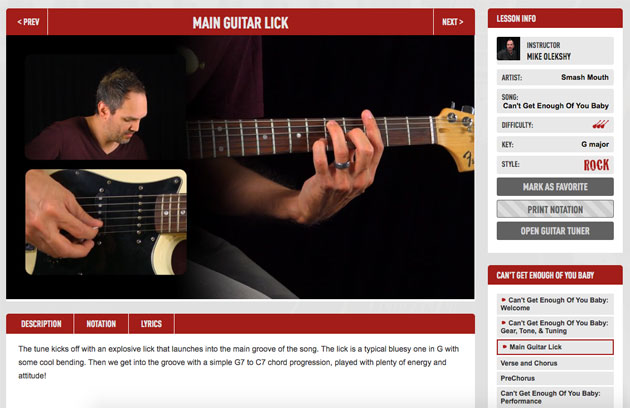 The lessons are created by hundreds of professional guitar teachers from all over the world.
They have created beginner courses, genre specific courses, and even lessons on hundreds of songs.
And you get full access, 24/7.
The value is huge in my opinion.
But you don't have to take my word for it.
You can actually try these lessons risk free, with a free trial.
I personally use and recommend everyone starts with a website called Guitar Tricks.
They have a 14 day free trial that you can use to see if you like it.
Here is a video I made showing you what's in the free trial:
Here is a Behind the Scenes look at the
Free Trial from Guitar Tricks