So someone recommended online guitar lessons eh?
Whether you saw an add on Facebook, or perhaps you noticed me recommending them somewhere else on this website, you're here to find out what they are.
I'll quickly cover this for you in 5 sections:
3 Quick Benefits (Infographic)
What You Get
How They're Presented
What You Learn
Which Lessons are Best?
3 Quick Benefits
What You Get
Think of online lessons as a membership.
For example, think of a gym membership. You pay a fee everything month and you can use the gym whenever you want during the operating hours.
Online guitar lessons work the same way. You pay a monthly or yearly fee, and you can log into the website and have access to all the lessons.
So you're paying for full access to the company website, which contains thousands of hours of video lessons.
How They're Presented
The top online guitar lessons websites will provide their lessons in HD video.
These are usually created in a professional studio by some of the top guitar teachers from around the world.
The videos are extremely well structured, and contain various camera angles.
The dashboard where you watch the videos on your computer, iPad, or smartphone will contain various features like a table of contents, notes, and additional resources.
There are new lessons added weekly.
Here are some sample screenshots: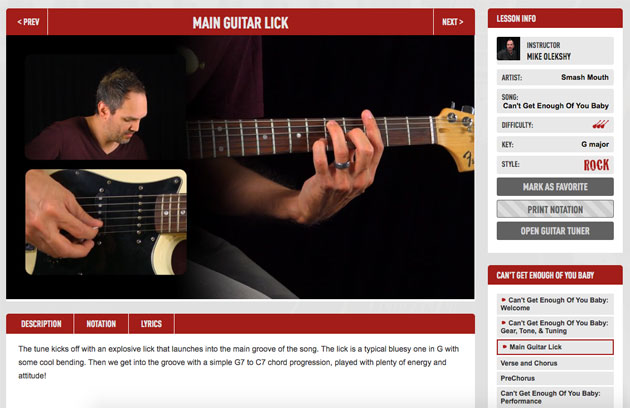 What You Learn
Lessons cover almost every single aspect of the guitar.
You can learn specific songs, specific genres and styles, and even the basics like how to hold a guitar, or how to tune a guitar.
The lessons will cover things like beginner chords all the way up to fingerpicking techniques.
Essentially all the lessons are broken down into specific categories. So if you want to learn some beginner chords, you head over to the beginner section.
If you want to learn Country guitar, or Jazz guitar, you head over to that section.
Here are some screenshots of some of the lessons which are provided at the website which I am a member of:
Just to show you how much you get with these lessons, here is a breakdown of the topics covered in just 1 section!
Guitar Fundamentals 1
Chapter 1: Get to Know Your Guitar
Welcome to the Guitar
The Strings and Tuning
How Does the Guitar Work
17 Videos
Chapter 2: Let's Learn to Play
Look Mom, Two Hands!
Your First Simple Chords: C and G
Simple Chords, A Minor and E Major
More Simple Chords and Easy Songs
41 Videos
Chapter 3: How to Play Simple Melodies
Simple Melodies on the First 2 Strings
Add the Middle 2 Strings
Melodies on All 6 Strings
Melodies to Read, Learn, and Play
26 Videos
Chapter 4: Your 5 Chord Power Pack
Learn the Chords E Minor, and D Major
Learn the Chords C, G and Am
2 Chord Songs to Learn and Play
Chord Change Strategies for the 5 Chord Power Pack
Songs to Play with Your 5 Chord Power Pack
35 Videos
Chapter 5: Must Know Basic Open Chords
More Must Know Minor and Major Chords
Seamless Chord Changes, Every Time!
13 Videos
Chapter 6: How Chords Work Together to Make Songs
Playing Songs in the Key of G
Playing Songs in the Key of C
Playing Songs in the Key of D
Playing Songs in the Key of A
Playing Songs in the Key of E
27 Videos
Chapter 7: Intro to Timing and Rhythm
Basic Strumming in 4/4 Time
Basic Strumming in 3/4 Time
You're a Guitar Player Now!
17 Videos
WOW.
That took a while to write out.
So in just the Guitar Fundamentals 1 section, you get over 150 video lessons!
Remember, Guitar Fundamentals is a course offered at the guitar lesson website called Guitar Tricks.
You can try these lesson out right now with their 14 day free trial:
Which Lessons are Best?
Everything I outlined here is what you get with online lessons from Guitar Tricks.
Guitar Tricks offers the best online lessons in my opinion.
What's great is that they have a free trial which last 14 days which you can test out.
You can literally try the lessons out, and see if you like them.
Click here to start your own free trial.
Here's a behind the scenes look at a free trial from Guitar Tricks.