Disclosure: We are a professional review site that receives compensation from the companies whose products we review.
TrueFire and Guitar Tricks are two the biggest online resources for learning the guitar.
You're going to get the most content in the form of video lessons. You'll never be able to go through it all, but more choice is always a good thing.
Although these are two monsters in terms of resources for online lessons, I found them to be much better in certain areas. This is actually a good thing, as one program is better than the other in certain areas, and vice versa.
What They Have in Common
One thing I noticed that was very similar was the quality of the video lessons.
Both TrueFire and Guitar Tricks offer excellent HD video lessons, along with great instructors. There may be a few videos from many years ago where the quality isn't that great, but all the recent videos are in HD, and the camera angles are great.
Here are some screenshots: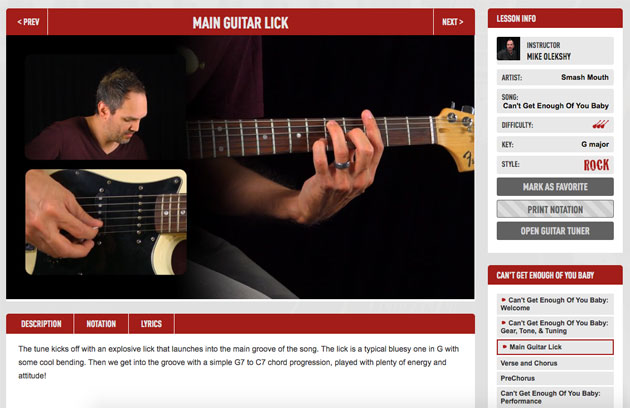 Screenshots are helpful, but honestly you need to actually test these lessons out to really see if you like them.
What's great is that they both offer free trials (see below for exclusive links).
What's Great About TrueFire
Huge Library of Courses
I recommend TrueFire if you're a more advanced guitar player, and you're looking to expand your skills.
As I go over in the TrueFire review, this program is made up of thousands of courses, rather than say a step by step program for beginners.
If you have some guitar skills already, and you want to say take the Texas Blues Solo course, or the Soul Guitar Guidebook course, then TrueFire is recommended.
The value you get from TrueFire is with the courses it offers, but you'll need to be a pretty good player to take advantage of most of them. If you're a beginner, these courses are probably way too advanced for you.
Guitar Tricks does have advanced lesson, however there are more to pick from with TrueFire
Private Lessons and Classrooms
The other area where TrueFire excels in, is with their private lessons.
If you want a private lessons and personal feedback, then this is the way to go. Obviously there are additional costs to this, but if you want a one on one type of learning experience, this is great for that.
What Guitar Tricks is Best For
Best for the Beginner
I personally started with Guitar Tricks because of their beginner course.
If you're a beginner, then I would highly recommend you use Guitar Tricks. Just get started with a free trial like I did.
After tons of research and testing, I found Guitar Tricks offers the best lessons for the beginner. They have the Core Learning System which is basically a step by step course for people just starting out.
I recommend that beginners definitely go with Guitar Tricks.
Best for Learning Songs
The other area in which Guitar Tricks is better than TrueFire in my opinion, is with their song lessons.
Guitar Tricks offers hundreds of song lessons, and they're added on a regular basis. This is a great feature, and one that has kept me using their website membership.
Price Comparison
If you buy a yearly plan, then Guitar Trick is slightly cheaper.
What's great, is that they each have free trials that you should definitely take advantage of.
I would recommend you try Guitar Tricks first. You can start a 14 day free trial right now. Click here.
If you're not impressed, then head over to TrueFire and give their courses a shot.
Guitar Tricks
Price: $19.95 / Month
Save on Annual Membership
Best for Beginners
TrueFire
Price: $19.95 / Month
$199 / Year
Best for Advanced Players